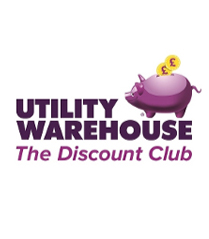 BIOGRAPHY
June Martin is a Distributor with Utility Warehouse and also the "Twitter Queen" for Mastermind Business Network.
Utility Warehouse Discount Club is able to save its customers money on a whole range of utilities and shops.
Since it started in 2002, the company has won multiple awards and is seen as one of the most trusted utility providers. It is also frequently recommended by "Which" Magazine for its services including as gas, electricity, mobile phones, home phone & broadband.
In addition to utilities, it is also a discount club with savings from over 50 retail stores, partners and over 2,000 online partners ranging from 3-7%, plus frequent special discounts offered that can be 10% or more.
Utility Warehouse also offers a single itemised bill to make the checking of expenditure easy and has no contracts for most services allowing freedom to move away if that should ever be necessary.
June has worked at the company for over 4 years and also has a long history in the retail industry previously working at Vodaphone. She also loves helping people to save money and making their lives simpler through Utility Warehouse.
So remember this "If you're not with the Pig, your bills to big."